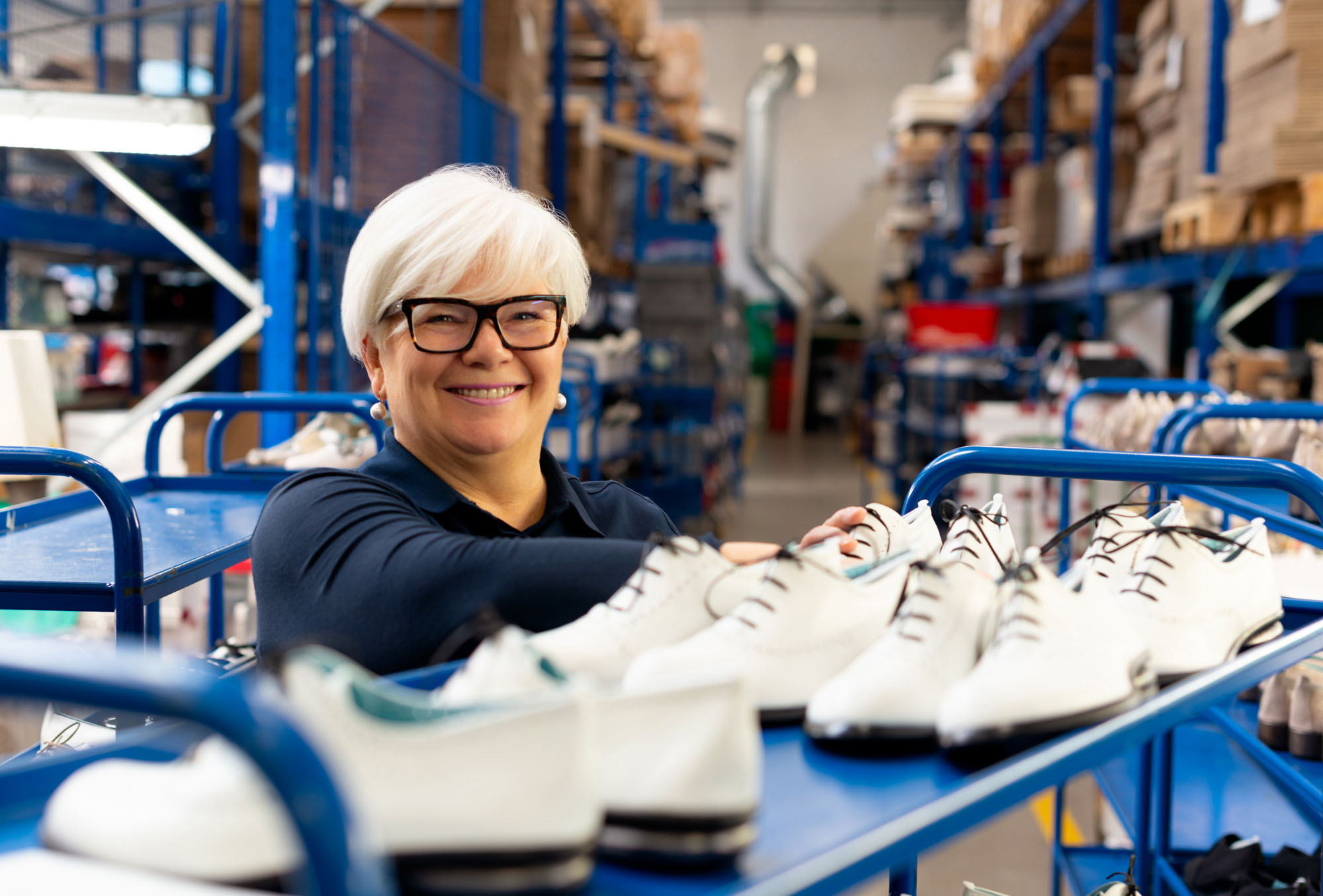 03 Mar

Q&A with Giovanna Ceolini
GIOVANNA CEOLINI
CEO di Thierry Rabotin.
Puoi parlarci un po 'di te, del tuo marchio e di come sei arrivato a dove sei adesso?
Ho passato tutta la mia vita lavorando nel mondo delle scarpe. Forte del diploma in ragioneria, inizia ho cominciato a lavorare al calzaturificio Cele Ferrario di Parabiago. "Però mi sono appassionata subito alle calzature. Stavo ore e ore a guardare gli artigiani per capirne il lavoro. L'ufficio non faceva per me, preferivo frequentare fiere, andare dai clienti, parlare del prodotto e fare ordini per poterli mettere in lavorazione. Nel 1982 si presenta alla Cele Ferrario un giovane stilista Thierry Rabotin, fermamente intenzionato a farsi conoscere nel mondo presentando una collezione di scarpe eleganti ma in grado di dare sensazione di camminare a piedi nudi. Questo incontro ha cambiato completamente la mia vita. Sono diventata direttore di vendita della Cele Ferrario e nel contempo della Conceria Buscatese dove Rabotin metteva in pratica la creatività decidendo i nuovi colori da presentare a Linea Pelle. Nel 1995, con lui e Karl Schlecht, inizia la vera avventura imprenditoriale che culmina nel 1999 con l'apertura del calzaturificio Parabiago Collezioni. Oggi il brand è distribuito in oltre 600 punti vendita in tutto il mondo.
Qualche donna ispira il tuo lavoro o i tuoi progetti?
Mia madre è la donna che mi ispira ogni giorno. Non vengo da una famiglia benestante, mia madre ha sempre supportato mio padre lavorando in un calzaturificio della zona. Anche quando tornava a casa stanca, mi raccontava sempre della sua giornata. Mi raccontava di tutte le sfide affrontate sul lavoro, che a sua volta mi hanno insegnato a non avere mai paura dei problemi o a scappare dalle responsabilità. Questa è diventata la mia filosofia per tutta la vita. Insieme ai miei colleghi, sia maschi che femmine, affrontiamo ogni giorno sfide diverse. Questi possono avere a che fare con la produzione o in relazione al cliente. Dobbiamo supportare e rispettare i nostri clienti. Questo approccio passa alle persone che lavorano con me.
 Quali iniziative ha preso il tuo marchio per dare potere alle donne sul posto di lavoro?
Per noi le nostre donne sono fondamentali, sono molte che infatti che ricoprono posizioni cardine all'interno della nostra azienda, dalla giunteria, al finissaggio fino al controllo qualità. Le donne hanno un'altra sensibilità e hanno occhi per dettagli che i loro colleghi maschi non vedono.
Il tema della Giornata internazionale della donna di quest'anno è #EachforEqual. Cosa significa questo per voi?
Significa il totale rispetto per la donna che è racchiuso nella nostra filosofia e riassunta in una bellissima frase di Thierry Rabotin: "I like to design shoes that envelop  the feet giving the pleasant sensation of walking barefoot". Creare scarpe comode che possano consentire quella libertà che permettono alle donne di essere eleganti e disinvolte nel mondo del lavoro.
Qual è il messaggio più importante che vuoi inviare alle donne che pensano di lavorare nel settore calzaturiero?
 Vorrei dire alle donne che non dobbiamo sentirci inferiori perché utilizziamo le nostre mani creando prodotti meravigliosi apprezzati in tutto il mondo, noi dobbiamo fare delle nostre capacità la nostra forza.
GIOVANNA CEOLINI
CEO of Thierry Rabotin.
Can you tell us a bit about you, your brand and how you got to where you are today?
I have spent my whole life working in the shoe industry. I have a Diploma in Accounting however at the time I was working at Cele Ferrario shoe factory in Parabiago. When I started working, I immediately became passionate about footwear. I spent hours and hours watching craftsmen in order to understand their work. Being in the office all day just wasn't for me! I loved attending trade fairs, meeting customers, talking about the product and placing orders. In 1982, during my time at Cele Ferrario shoe factory, I met Thierry Rabotin. Thierry had the visionary idea of ​​creating elegant shoes, that are simultaneously able to give the sensation of walking barefoot. That meeting changed my life forever. I became the Sales Manager at both Cele Ferrario and at Conceria Buscatese, where Rabotin put his creativity into practice deciding on new colors to present to Linea Pelle. In 1995, alongside Thierry and Karl Schlecht, was when my entrepreneurial adventure really began. This adventure culminated in 1999 with the opening of Parabiago Collezioni shoe factory. Today our brand is distributed in more than 600 stores all over the world.
Do any women inspire your work or designs?
My mother is the woman who inspires me every single day. I don't come from a wealthy family, so my mother has always supported my father by working in a local shoe factory. Even when she came home tired, she would always tell me about her day. She would tell me about all the challenges she faced at work which in turn, taught me to never be afraid of problems or run away from responsibilities. This became my philosophy throughout life. Together with my colleagues, both male and female, we deal with different challenges every day. These can be to do with production or customer-related – We have to support and respect our customers. This approach flows on to the people working with me.
What kind of initiatives has your brand taken to empower women in the workplace?
Women are fundamental to us. In fact, there are many women holding key positions within our company, from the beginning to the end of the production process. Women have a totally different sensitivity and an eye for detail that their male colleagues sometimes do not have.
This year's International Women's Day theme is #EachforEqual. What does this mean to you?
It means total respect for women. This is enclosed in our philosophy and summarised by a beautiful quote by Thierry Rabotin: "I like to design shoes that envelop the feet giving the pleasant sensation of walking barefoot". It means creating comfortable shoes that provide all women the freedom to feel elegant and casual in the workplace, just like men.
What message would you like to convey to women thinking about working in the footwear industry?
Don't feel inadequate or inferior because with our own hands we are capable of creating wonderful products, appreciated all over the world. We must turn our skills into our strengths.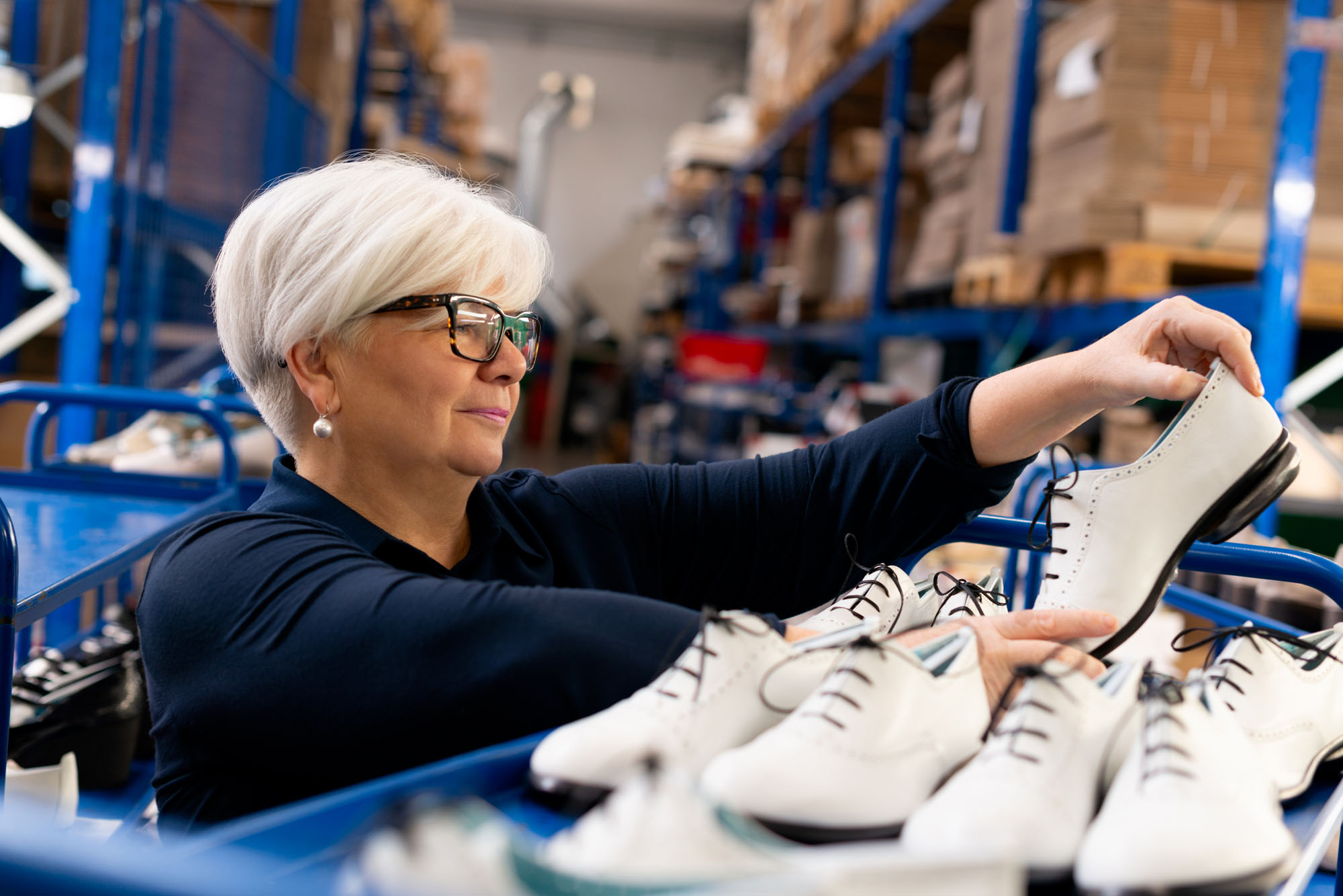 Share on